At Rivendell we provide Contract Flooring for commercial properties to help give their owners the look and feel they desire. One of our recent projects took us to the lovely surroundings of Bath where we worked over a 6 month period with the team at the luxury bed and breakfast, Grove Lodge.
Find out more below or give the team a call on 0117 963 7979 for more information regarding our Commercial Flooring solutions.
Grove Lodge
In the heart of Bath, Grove Lodge is a combination of 3 stunning suites with all the comforts you'd expect to find in any 5-star hotel. The original fireplaces, moulded covings and large windows with their breath-taking views of the Bath countryside are but a few reasons that customers from all over the world choose to stay there when visiting Bath.
Built in 1788, the rooms all have a quirky yet comfortable feel thanks to their interior designer Yvonne who has perfectly contrasted the traditional with the modern in these outstanding suites. Grove Lodge pride themselves in being classic but not outdated.
Rivendell and Grove Lodge
We met Yvonne over 10 years ago at a networking event and she regularly calls us to help with her projects. As the interior designer for Grove Lodge, Yvonne was in charge of updating the Hotel Flooring, complementing the decor of the suites whilst also ensuring that the end result was practical and durable.
As soon as she had the brief, Yvonne contacted us knowing that we would not only provide her with a competitive price but also our expert advice on the right products for her requirements.
"The best things about Rivendell are their extensive knowledge of their products, their competitive prices and excellent customer service, so when it came to re-decorating Grove Lodge guest house they were my first choice."
Stunning Stairs
Given the amount of traffic that the stairs would have on a day-to-day basis, we recommended a carpet made of pure wool because of its durability and stain resistant properties. In addition we wanted something that could make a real statement with the rest of the design and be in keeping with the period features. We therefore supplied Grove Lodge with a collection of different designs and they decided stripes would match the rest of the house perfectly as well as keeping the staircases fresh and stylish.
Lounge and Bedrooms
When it came to the lounge and bedrooms we wanted to keep the same theme as the rest of the décor and recommended the contemporary yet classic Cavalier carpets in grey tones. Not only does this mirror the look and feel of the stairs but this range is well known for its durability and stain resistance.
Messages from Grove Lodge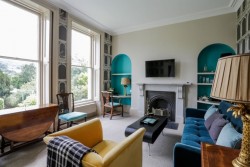 "As an interior designer, I always want the best for my clients so I often choose to work with Rivendell because of their excellent service. I met Mandy at a networking event about ten years ago, used her services once and then just kept going back for more!"
"During the fitting itself, the flooring fitters adapted their work to suit the staff at Grove Lodge. They only took four days to swiftly complete the entire project and they were very polite. I would definitely recommend Rivendell to anyone searching for a local flooring company that will get the job done to a high standard."
Yvonne Lye, Interior Designer for Grove Lodge, Bath
"Rivendell maintained a very good relationship between our interior designer and themselves, with Mandy Risso as the main point of contact. Their knowledge of products and of their uses was extremely informative and they provided them at a competitive price.
"Rivendell worked with my interior designer to transform Grove Lodge into a place of luxury and the results were outstanding!"
Giovanni Baiano, Partner of Grove Lodge, Bath
Looking for new flooring?
If you are looking for new flooring for your home or commercial property and like what you've seen and heard about our recent project then take a look at other great feedback we've had from our clients here. Alternatively read the case study from e3 Media who were very pleased with our service as part of their recent office refit.
At Rivendell we understand that you need expert advice and support as well as a professional and well managed fit which is why we will work closely with our clients throughout the whole process – from first ideas to the end product – with minimum fuss.
If you are looking to renew your flooring, then give the team at Rivendell a call on 0117 963 7979 to arrange a free, no obligation consultation.