Well the celebrity world of BBC's Casualty has now been and gone.
If you are keen to spot Ashton on TV it is part of a two episode story. The episode features Denise Welch (from Dancing on Ice and Loose Women) who plays a female lorry driver who visits her son in hospital. At some point she is at garage having a rant.
They spent most of the morning filming and stopped at lunchtime for a rewrite. Filming started again in the early a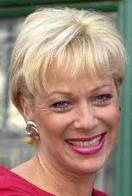 fternoon and they continued shooting later in the afternoon. Apparently they had also filmed some of the story in the residential area of Southville.
We did spot Denise Welch a few times wondering around. She seemed to spend most of her spare time using her mobile. Most of the film crew stood around drinking coffee and waiting for something to happen all day. Not quite as exciting as you might have hoped. Perhaps I'll give the world of show biz a miss then : )